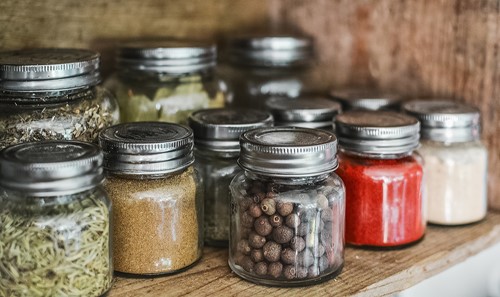 If you need more shelves but want to build them yourself rather than buy, you can use a variety of methods and materials. Building your own shelves can be complex or simple depending on the look and function you want. Luckily, there are plenty of clever options for DIY beginners to start with. We'll go over some easy DIY shelf ideas here.
Pegboard Shelves
Pegboard is a staple of workshop and garage organization, but it can also look great as part of your decor. By using slightly longer pegs than you would use to hang tools, you can set supports for small boards or other shelving materials. Set up the shelves in different widths and heights for fun visual interest. You can make them symmetrical or staggered depending on your style choices. This option works well in bathrooms and craft rooms where you need small, lightweight items close at hand.
Repurposed Drawer Shelves
If you have an old dresser or cabinet that's no longer in use, consider removing the drawers and giving them new purpose. If you turn the drawers on their side and attach them to the wall, you can create box-style shelving with no more than a few brackets and nails. You can paint them to match your decor, distress them with sandpaper or leave them as-is depending on your preference. Arranging them vertically is a great way to mimic a bookshelf for far less effort.
Plastic Crate Shelves
Similarly to the drawers, you can easily convert plastic crates into vertical storage. They are lightweight, sturdy and easy to clean. They're also easy to style with spray paint if you want to change the color. Try using plastic crates for shelves in a kids' room, laundry room or craft room for a quick, casual yet heavier-duty DIY option.
Hanging Window Shelves
Made especially popular by houseplant lovers, hanging window shelves are easy to make and provide excellent storage. All you need is rope, eye hooks and wood pieces sized for your window. You can drill holes in each side of the shelves for the rope to pass through, and then secure them with knots. You can easily create multi-tiered shelving this way or keep it simple with a single row. Decorate with your favorite sun-loving plants or other decor.
Classic Floating Shelves
The timeless yet modern look of floating shelves works in any design style and they are easy to DIY. All you need is the correct sized wood or shelf material and angle brackets to hold them up. For a truly invisible attachment to the wall, you can take it a step further and create a brace for the wall to drill the shelf into. Depending on how handy you are with power tools this might be a more advanced project, but it's inexpensive and simple with the right instructions.
No matter what changes in the world of interior design, storage is a constant. We need more storage without it taking away from the aesthetic of the room—in fact, ideally it should enhance it. While many shelving systems and methods can be complex and expensive, the above ideas are doable by DIY beginners with the right tools and crafter's spirit.